AUSTIN, Texas, October 6, 2023 (Newswire.com) - In an unprecedented move towards innovation and accessibility, CapMetro today announced a collaboration with Spare to replace its paratransit management system with Spare's modern ADA paratransit platform. The new platform launched on October 1, 2023.
With this significant shift, CapMetro is making history by implementing one of the world's largest automated ADA paratransit systems. A nod to Austin's position as a global hub for technology and innovation, this partnership underscores the commitment to supporting one of the fastest-growing metros in the United States.
"In our ongoing commitment to our customers, it's important that we leverage innovative technologies to move people, especially our paratransit riders, safely and conveniently," said Dottie Watkins, CapMetro's President & CEO. "There have been long-standing challenges in delivering paratransit service that has created a divide between available services and the contemporary needs of our riders. With this collaboration, we're bridging that gap and reaffirming our dedication to accessibility."
As of October 1, 2023, the CapMetro Access ADA paratransit service transitioned to using Spare's automated ADA paratransit platform. Riders now enjoy real-time notifications about their upcoming journeys, allowing them to plan effectively and stay informed. They can receive trip notifications via voice, text, email, or app and have the convenience of hands-free boarding with an enrolled photo ID and credit card for auto-pay fares. On the other hand, dispatchers can now closely monitor day-to-day operations, proactively address challenges, and take measures to fill scheduling gaps or reduce cancellations.
"We are seeing more and more innovative agencies like CapMetro deploy modern ADA paratransit systems. We're thrilled to partner with CapMetro to deliver one of the largest automated ADA paratransit systems worldwide," said Kristoffer Vik Hansen, CEO and Co-founder of Spare. "Forward-thinking agencies like CapMetro exemplify how transit providers can evolve to meet rider's modern expectations. Our mission has always been to make every ride possible and together with CapMetro, we're realizing that vision on a grand scale."
Another significant first for CapMetro, with Spare's technology, is integrating eligibility management directly into reservations, scheduling, and dispatch management. This innovation means digitizing the eligibility process which is an important step to becoming more sustainable and efficient.
"The collaboration with Spare represents more than an upgrade; it's a reimagining of how we serve our ADA paratransit riders," commented Chad Ballentine, VP of Demand Response and Innovative Mobility at CapMetro. "We're proud that this innovation will address the current and future requirements of Austin's paratransit community, laying the groundwork for further enhancements."
Together, CapMetro and Spare are redefining the future of paratransit, ensuring that Austin remains at the forefront of inclusive innovation.
##
ABOUT CAPMETRO
CapMetro connects people, jobs and communities by providing Central Texans with safe, high-quality and sustainable transportation alternatives. The agency provides over 63,000 daily trips on its buses, trains, paratransit and vanpool vehicles and serves a population of more than 1.2 million in its 543-square-mile service area. The region's transportation leader, CapMetro has invested in transit services like its High-Frequency Network, which moves more people, more reliably. CapMetro is committed to increasing regional mobility and, through Project Connect, will transform how people travel throughout Central Texas. Visit capmetro.org for more information.
ABOUT SPARE
At Spare, we empower transit agencies to launch microtransit services and modernize ADA paratransit systems to make every ride possible, especially for the underserved in our communities. Recognizing the unique requirements of each agency, our comprehensive suite of software tools offers the building blocks to tailor reliable and compliant paratransit services. With a track record of powering over 10 million rides globally, and a trusted choice for ADA paratransit by top agencies like APTA's Agency of the Year, Pinellas Suncoast Transit Agency, Spare is shaping the future of mobility. For more information, visit www.sparelabs.com.
Contact Information:
Jorge Ortega
Communications Manager, CapMetro
[email protected]
956-337-9501
Lynda Chau
[email protected]
519-498-0175
Related Images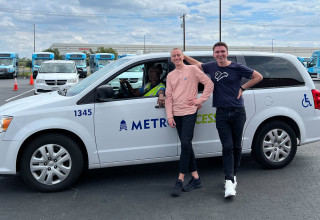 Spare Co-founders with CapMetro Access Driver
Spare Co-founders with CapMetro Access Driver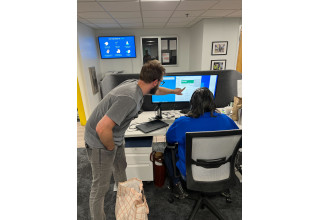 CapMetro dispatcher working with Spare on launch day
CapMetro dispatcher working with Spare on launch day
Original Source:
Innovation Meets Accessibility: One of the World's Largest Automated ADA Paratransit System Successfully Launched by CapMetro & Spare