Entertainment
CITY Furniture Named 'Official Furniture Partner' of The Motor Enclave Tampa
The Enclave Event Center to Feature Furnishings From CITY Furniture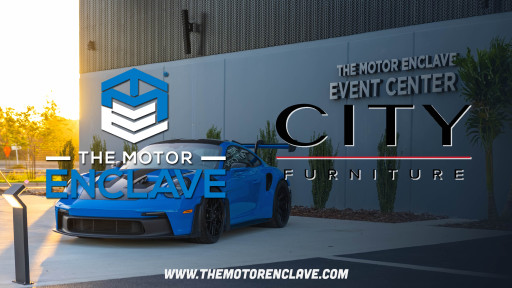 The Motor Enclave & CITY Furniture Partnership
The Motor Enclave logo and CITY Furniture logo over a photo of The Motor Enclave Event Center in Tampa, Florida
TAMPA, Fla., December 4, 2023 (Newswire.com) - The Motor Enclave announced today that it has entered into a multi-year agreement with CITY Furniture to become the "Official Furniture Partner" of the 200-acre experiential motorsports venue conveniently located at the corner of I-4 and I-75, less than 15 minutes from downtown Tampa.  
CITY Furniture will be instrumental in the curated selection of furniture and décor for the Enclave Event Center, the Enclave Beach Club resort pool, the Enclave Off-Road Hospitality Lounge and The Motor Enclave corporate offices. 
Additionally, CITY Furniture has joined The Motor Enclave Preferred Partner Program which provides Enclave Private Garage owners with access to CITY's free design professionals and VIP discounts to its full array of product offerings. 
"After learning about CITY Furniture's remarkable 1.2 million-square-foot showroom, and distribution center in the Tampa Bay market, I was genuinely impressed. The $125-million showroom features state-of-the-art LED lighting, creating a modern, energy-efficient environment. The facility even offers over 20 electric vehicle charging spaces, highlighting our shared commitment to the community. It was clear that this is a company we needed to collaborate with," said Enclave CEO Brad Oleshansky. 
"The Motor Enclave facility is incredible. Granting Private Garage owners access to CITY's exceptional team of interior designers and our beautiful furniture line is a definite win-win for both our organizations. Excited to kick things off with the entire Motor Enclave crew and show CITY's commitment to world-class service," shared Andrew Koenig, CEO of CITY Furniture.
About CITY Furniture: CITY Furniture, a South-Florida-based, family-owned American furniture and mattress retailer and fine upholstery manufacturer and one of America's Top 20 furniture retailers, operates over 30 showrooms from Miami through Vero Beach, and in Southwest and Central Florida, as well as 14 Ashley Home Store showrooms as the brand's Southeast and Southwest Florida licensee. For more information, please visit http://www.cityfurniture.com.
About The Motor Enclave: The Motor Enclave is the premier developer of experiential motorsports venues in North America. Our 200-acre development in Tampa, Florida, includes a 1.6-mile Hermann Tilke-designed driving circuit, two-acre vehicle dynamics pad, 100-acre off-road experience with miles of purpose-built trails, 37,000-square-foot corporate event center, and the largest Private Garage community in the world with more than 300 privately owned luxury garages. Every adrenaline-filled detail has been designed and engineered around delivering memorable experiences to our owners/members, corporate clients, and the general public. Complete details can be found at www.themotorenclave.com.
Contact Information:
Brad Oleshansky
CEO
[email protected]
Chas Ostezan
CRO
[email protected]
248-878-3651
Hank Johnson
Marketing Manager
[email protected]
8649181802
Original Source:
CITY Furniture Named 'Official Furniture Partner' of The Motor Enclave Tampa